The Bureau of Indian Affairs accepted a parcel of land into trust today for the Gun Lake Tribe, near Grand Rapids, Michigan. The Tribe proposes to construct a 200,000 square foot casino on the 147-acre parcel. AES completed the NEPA Environmental Assessment for the project.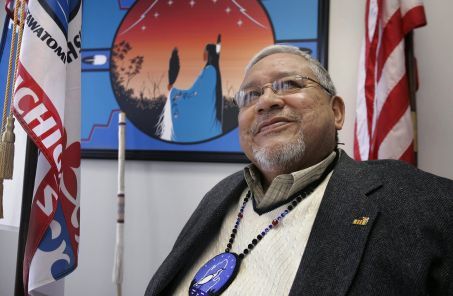 Land Taken Into Trust For Gun Lake Tribe
by The Grand Rapids Press
Friday January 30, 2009, 2:02 PM
WAYLAND TOWNSHIP — Game on.
The Gun Lake Band of Pottawatomi today said the federal government has formally taken land into trust for the long-planned Gun Lake Casino.
Taking the land into trust puts a cap on years of litigation that delayed the small tribe's ability to develop the $200 million casino.
The 147-acre plot includes the former Ampro Products factory at 129th Street and U.S. 131. The tribe has said it expects the casino will take about 16 months to build. It still needs to finalize a revenue-sharing compact with the state before getting the final go-ahead to offer Las Vegas-style gaming.
Return to mlive.com more coverage of today's announcement and pick up Saturday's edition of The Grand Rapids Press.
Press File Photo Above:
Tribe Chairman D.K. Sprague, 65, hopes construction of the Gun Lake Casino off U.S. 131 in Wayland Township will begin by the end of this year.
Posted in
News